Hola España
Tags: Damosa Gateway, davao restaurants, food trip, Hola España, Hola España davao, restaurants in davao, Spanish cuisine

We bring you to an outstanding and vibrant taste of Spain only at Hola España.A deli-restaurant that provides authentic Spanish cuisine, a variety of cold-cuts, cheese, wines, olive oil, hams (including Serrano and Iberico), sausages and turrones, and a great deal additional.
Have a taste of the famous Paella Valenciana, Chicken al Horno and our incredibly own Cochinillo (Roast Suckling Pig). We take pride in our array of menus all of the way from España. Do enjoy our wide range of Spanish wines, Sangria and beers at a quite pleasurable and reasonable price.
At Hola España, we give you fun and laughter where you are able to eat your fill in a festive and spectacular ambience!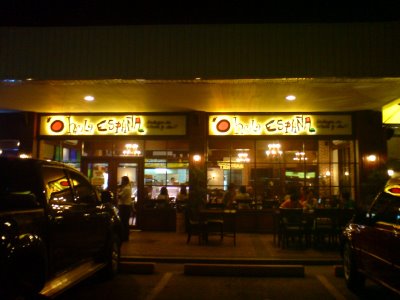 For prospects, a budget of around 500 to 1,000 pesos is enough to get pleasure from lots of outstanding dishes at Hola Espana. Aside from all the enticing dishes available, having a deli appropriate inside the facility is a single of the distinctive features of this fine dining restaurant. From here, individuals can order fantastic tasting meat and different kinds of cheese. At the similar time, the location also gives specific wines to all its customers and guests. Hola Espana gives a cozy, comfortable, and convenient spot to stay though the friends enjoy its various particular dishes.
Quite a few consumers like Hola Espana for the wonderful ambiance that it supplies, allowing them to have a superb time conversing with 1 an additional whilst enjoying all of the fantastic food. At the exact same time, the restaurant is really cozy and comfortable due to the fact the air-conditioning system is not that cold. Furthermore, the comfort rooms are impressively clean, giving its visitors the convenience and comfort they need. Above anything else, the a variety of food offerings are also extremely delicious.
Located at Damosa Gateway in Lanang
For special reservations and inquiries, the management and staff of Hola Espana Bodega de Vinos y Deli are available through the phone line (082)-234-6877.
33 responses to "Hola España"
Other Related Links
Browse Categories
Friends and Sponsors
If you wish to be added in our listing. Click here to contact us