San Pedro College
Website: http://www.spcdavao.edu.ph/
Facebook: http://www.facebook.com/pages/San-Pedro-College-of-Davao/54558007354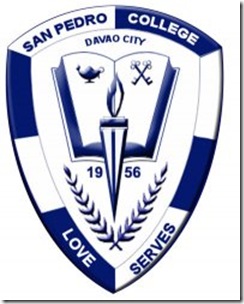 The SPC Vision and Mission Statement
The San Pedro College is a Catholic Institution of learning dedicated to the Christian education of the people of Davao and its neighboring regions. It is It is own and managed by the religious congregation know as the Dominican Sisters of the Trinity.
It believes in: individual and personal development through love and hard work; open admission and religious freedom; meaningful education as manifested in sound professional and technical training for community services and national development; and providing every man an opportunity to education to enable him to develop his capacities and potentials as a person.
It respects diversity of culture and tradition and aims at unity and peace among men.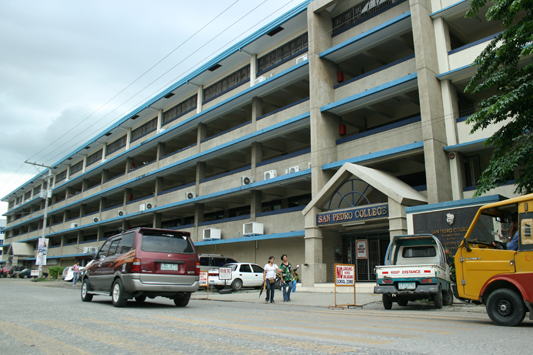 VISION:
A Dominican learning community, committed to excellence in the formation of persons, living and spreading the love of the compassionate Jesus, Healer and Teacher.
MISSION:
We, the students, staff, faculty and administrators, commit ourselves to continually:
• build a nurturing Christian community with passion for truth, service, and excellence.
• provide the Philippines and the world with persons who are professionally and technically skillful imbued with strong ethical, moral and spiritual values, through innovative programs of instruction and formation, research, and community extension services.
• sustain quality work life for the employees by providing competitive benefits, good working conditions and opportunities for growth and development.
• ensure a sustainable economic viability of the organization through efficient use of resources.
Courses Offered:
GRADUATE PROGRAMS
• MA in Guidance Counseling
• MA in Hospital Administration
• MA in Industrial Counseling
• MA in Nursing
• MA in Pastoral Counseling
• MS in Medical Technology
• MS in In Nursing
BACCALAUREATE PROGRAMS
• AB with Majors
* Environmental Hygiene & Management
* Human Resources Management
* Psychology
• BS in Biology
• BS in Commerce with majors in
* Accounting Management
* Information Management
* Marketing
• BS in Computer Science
• BS in Guidance and Counseling
• BS in Information Technology
• BS in Nursing
• BS in Pharmacy
• BS in Physical Therapy
• BS in Psychology
• BS in Respiratory Therapy
• BS Education with Majors in :
* Biology,
* Physics,
* Chemistry
* General Science
CERTIFICATE PROGRAMS
• Computer Secretarial
• Computer Technology
• Pharmacy Aide
• Nursing Aide
COMMUNITY SCHOOL
• Nursing Aide Training Program
• Child Care Training Program
• Computer Literacy Program
• Livelihood Skills Training Program
SPC DIRECTORY
Operator Assistant: Tel# (082) 224-1481, (082) 2264813 and (082) 2264187
SPC Fax# (082) 2264461
Alumni Office: Tel# (082) 2210826
Guidance Center: Tel# (082) 2210257
Laboratory: Tel# (082) 2210634
5 responses to "San Pedro College"
Other Related Links
Browse Categories
Friends and Sponsors
If you wish to be added in our listing. Click here to contact us