St. Jude Thaddeus Parish Church
Tags: church in davao, davao church, Saint Jude Thaddeus Shrine, St. Jude Thaddeus, St. Jude Thaddeus Parish Church, St. Jude Thaddeus Parish Church davao

Website: http://stjudeparish.zoomshare.com/12.html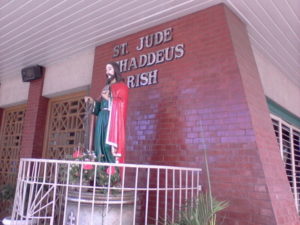 St. Jude Thaddeus Parish is situated in the southwest bend with the City of Davao at General Malvar Street. This parish was utilized to become a component with the San Pedro Cathedral; and claimed a membership of about 20,000 professed Catholics that covered the zones of Malvar, Mt. Apo and Camus Streets.Several people all via the Diocese of Davao have already been asking how the parish came about. And how St. Jude Thaddeus, a lesser acknowledged apostle, was chosen as patron saint for the parish.
The story goes back in 1964, when the late Archbishop Clovis Thibault, PME, who was then bishop of Davao, asked an extra PME priest, Fr. Paul Gravel, to open just just a little chapel in Malvar Street. When confronted using the dilemma of naming a patron saint for the chapel, Bishop Thibault recommended St. Jude Thaddeus for two elements: first, was that the bishop really had a genuine devotion towards the 'Patron Saint of Lost Causes. And secondly, the bishop's grandfather was truly named 'Jude.' So, dedicating the Chapel to St. Jude Thaddeus was also the bishop's way of honoring the pleased memory he had with his grandfather.
Consequently, just just a little chapel was constructed just along the corner of a bowling lane owned by the Knights of Columbus. Within months, people everywhere started to treat the place as a sacred shrine. Although there was no official Church document that confirms its appellation as a 'miraculous' pilgrimage web site, the little chapel was then acknowledged because the Saint Jude Thaddeus Shrine.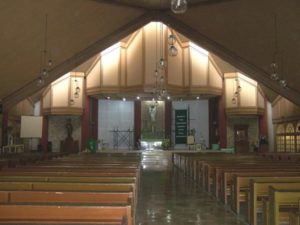 A year later, in 1965, St. Jude Thaddeus Parish Church was officially proclaimed as an independent parish beneath the Archdiocese of Davao. Rev. Fr. Paul Gravel, PME became its initial parish priest. The parish church architecture that we're seeing nowadays was constructed in 1975. Gradually, the parish church progressed, stone following stone, because the years went by.
All via the years, St. Jude Thaddeus Parish Church remains to become a solace not just to these that have lost hope, but a lot much more so to these that discovered God, in Jesus Christ, as their only hope,strength, and salvation.
Contact Info:
Malvar Street, Davao City
Email: stjudedavao@gmail.com
Call or fax them at: (082) 227-5402
6 responses to "St. Jude Thaddeus Parish Church"
Other Related Links
Browse Categories
Friends and Sponsors
If you wish to be added in our listing. Click here to contact us