Love Radio 90.7 Davao
Tags: 90.7, davao radio, Love Radio, Love Radio 90.7, Love Radio 90.7 Davao, Media, radio stations

Website: http://www.loveradiodavao.com/
Facebook: http://www.facebook.com/pages/Love-Radio-Davao/109759349053199
Twitter: http://twitter.com/#!/loveradiodavao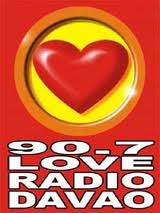 MBC's leading station on the FM band was previously
known
by its call letters DZMB, when it
started
out on AM in 1946 as the pioneer music station
inside the
nation
. It
started
broadcasting on FM in 1975, signalling the birth of the
Adore
Radio network.

Back then, it played mainstream pop, later gravitating to
simple
listening music. Now, pushing into its third decade, 90.7
Adore
Radio continues to entertain a wide range of listeners
having a
music format that combines middle-of-the-road (MOR) songs with
modern
hit tunes
and also the
greatest
in
option
/
contemporary
rock sounds.

The station broadcasts at 25,000 watts, reaching out to radio listeners in Mega Manila,
components
of Quezon, Nueva Ecija, Bataan, Zambales, Rizal Province, Bulacan, Laguna, Cavite, Batangas, Pampanga,
Components
of Tarlac and Pangasinan.

90.7
Adore
Radio
will be the
acknowledged and official #1 radio station in metro and mega-Manila, having consistently topped the ratings for the past seven years, based on surveys by the Radio
Study
Council. Its taglines "Kailangan pa ba'ng i-memorize 'yan?" and "Bisyo na 'to!" have
turn out to be
typical
daily
expressions of
numerous
Filipinos.
Contact Info:
Phone #: (082)3053971, 3035884, 2241523, 2262222
Address: MBC Compound R. Castillo St., Agdao
5 responses to "Love Radio 90.7 Davao"
Other Related Links
Browse Categories
Friends and Sponsors
If you wish to be added in our listing. Click here to contact us